Super Stainless Steel Silicolloy

Characteristics
Silicolloy is "SUPER STAINLESS STEEL" which has multiple features in a steel.
Regarding Silicolloy sales, we involved in the business cooperation with Silicolloy Lab Co., Ltd.
Tenhiko deals with sales support,and Silicolloy Lab Co., Ltd. deals with technical support.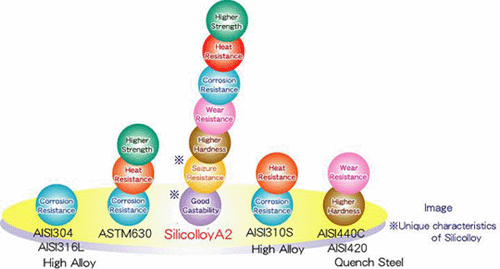 Page top

Type

Page top
End application examples

Foot roller for continu-ous casting machine (CC Roller)
→Silicolloy A2,D

Bearing's roller for bridge
→Silicolloy A2

Shaft for safety relief valve
→Silicolloy A2

High pressure chamber
made in Daiichi Giken Co,Ltd
→Silicolloy A2

Ball bearings →Silicolloy XVI

Steel ball
→Silicolloy A2, XVI

Seizure resistance bolt
→Silicolloy A2, B2

Wire
→Silicolloy A2, B2

Marine impeller
→Silicolloy A2

Marine jet
impeller
→Silicolloy A2

Golf metal head
→Silicolloy A2

Mesh
→Silicolloy B2
* Both of "シリコロイ" and "Silicolloy" are trademarked.
Now, we are selling round bar and processed goods(Foot roller for continuous casting machine),casting metal and casting processed goods of Silicolly. Also there are some cases that we can support other shapes such as wire and sheet and so on, please feel free to contact us.

For more information on Silicolloy, click here(Silicolloy Lab Co., Ltd. website).
Notice
These material information in this page is based on Silicolloy Lab Co., Ltd. product catalog.
There are some cases maker do not accept the production depending on the production lot and specification.
Technical information in this website,while every reasonable effort was made to ensure the accuracy at the time of this publication, is general information relating to our products only and is not meant as any warranty,expressed or implied. Such technical information does not guarantee that any of our products are suitable for your particular application or purpose. Use of any information contained in this website shall be at user's risk. Any information in this website is subject to change without prior notice. Please contact our company for up-dated information.
Please feel free to contact us
ZIP: 559-0032
5-26, 5-Chome, Nankominami, Suminoe-ku, Osaka, JAPAN