Characteristic of Tenhiko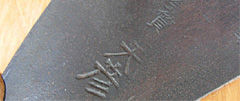 Tenhiko Industrial Co., Ltd. was founded in Oumi (Kouga), 1875. At first, we started the manufacture and sales of ripsaw. After that, we started to sell materials and processed goods all over Asia and Oceania.
"SANPO YOSHI - to be good for sellers, buyers and society," is our company policy, and we keep assisting our customers.
Core competence of Tenhiko
"Overseas trading," "procurement ability" and "unique stock items and processing" are our triad based on employees with full of vigor.
We can distribute steels directly to overseas companies.

We can supply Japanese materials stably by receiving cooperation of manufacturers and trading companies.

We have unique stock items and know-how of processing.

We have continuous employee training and various activities.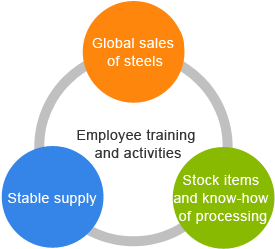 Our service is
. Know-how of materials and processing of special steel.
. Stable supply of materials mainly special steel (We have unique stock items)
. Suggestion of materials and processing of special steel.
. Supply of processed goods by using domestic and international network.
. Import/Export by function of stock.
Please feel free to contact us
ZIP: 559-0032
5-26, 5-Chome, Nankominami, Suminoe-ku, Osaka, JAPAN