Our suggestion of right material

Each steel makers produce various steels of their original brand.
About the selection of special steel, we introduce our view of right approach.
Our suggestion of right material
Tenhiko suggest right materials based on the function of customer's product, performance, manufacture, and a processing procedure.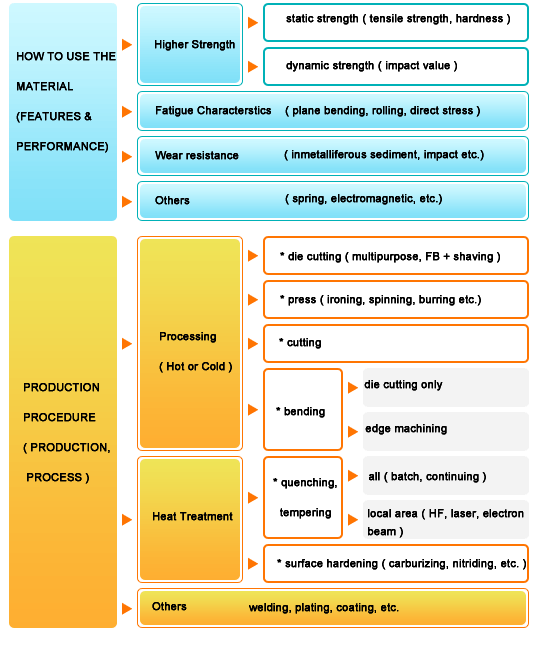 * HF= High Frequency hardening  FB= Fine Blanking
Specific Example : Requirement for Rim Saw Materials
Requirement from Customers

· Want the material which has abrasion resistance and is excellent in toughness.
· Want economical low cost and cheap materials.
· Want to get weight saving, thin materials.
· Want the materials which can pass the 90-degree vent bending test.
· Want the materials which can pass the chipping shock test.
· Good heat resistance(about 850℃) when doing silver brazing.
· Want the material with little generation of heat treatment distortion.
· Want to raise thickness dimensional tolerance.
· Want the materials which have flatness.
· Want to use wide-width materials.
· Want to raise the material yield.
· Want to lose a surface scale.
· A futures contract wants as time for delivery.
· Small order of materials wants instant delivery.
· Do not want to be having stock.

Specific Compliant

1. Please produce without caring about a yield loss!

In addition to the usual products offered, since it had troubled for combinations, such as a small lot and special size goods, two kinds of price setup of the prevailing price and the loss zero price was carried out.

2. How about using cheap low carbon material for blank blade material?

The boron steel which does not contain as expensive element is used as blank blade materials.

3. If a wide-width, flatness, and surface state is considered and cold-rolled materials are examined?

One of our customers who considered total cost and changed to cold-rolled material.

4. Please examine chromium steel equipped with safety standards equivalent to SKS5!

The safety standards of CE are passed.

The material list considered according to the characteristic
N22CB

NK6Cr

NKS85

N35CB

NK7CR

NK6DRCr

NKS80

NKS90

NUP7

·High-Workability
·High-Hardenability

·Higher Strength

·Toughness-Resistance
Wear-Resistance
·Softening-Resistance
·Toughness-Improvement
·High-Fatigue Property
·Toughness-Resistance
·Heat-Resistant deterioration
·Softening-Resistance
According to those examples, we can work customer's requirement , therefore, please feel free to contact us.
Please feel free to contact us
ZIP: 559-0032
5-26, 5-Chome, Nankominami, Suminoe-ku, Osaka, JAPAN