DNA-SUS (Dynamic Nisshin Advanced Strategic Unique Stainless)
※「DNA-SUS」is a registered trademark of Nisshin Steel Co.,Ltd.
※ DNA-SUS is a brand name of high value stainless steel that inherit from a gene of Nisshin Steel.
(Dynamic Nisshin Advanced Strategic Unique Stainless)
※ NSS is Nisshin steel co.,ltd 's original standard.

NSS Steel Grade (Nisshin steel co.,ltd 's original standard.)
· High Corrosion Resistance / SCR, 445M2, 442M3, 436, 432 etc.
· High Machinability / 304ES, 304M2, ID-1, 436M1, 430M2 etc.
· High Heat Resistance / ER-1, 302B, NCA-1, NCA-2, HR-1 etc.
· High Strength / HT1770, 1500SP, 431DP-2, TF-1 etc.
· Nonmagnetism / 305M1, 305M3
Extra Soft Stainless-steel Sheet "NSS304ES" Development Example
Spinning processed goods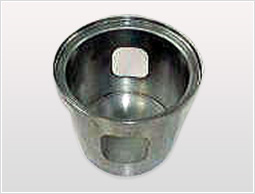 Rugby ball
(Spinning process+Weld construction)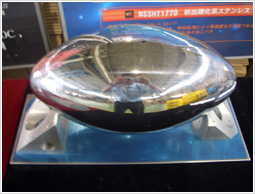 1. NSS304ES is an original extra soft stainless-steel sheet brand of SUS304 type by Nisshin Steel.
2. This material is very soft ( HV110~130 ) and less springback and procss easily,so you can make the shape easily when you press and push it.
3. You can omit the number of times of the annealing in second hardening and the third hardening,because it has low work hardening.
4. It can improve a defective fraction in processing and lead to total reduction of cost.
5. Various products (processed goods) which used NSS304ES are made.
Surface-Treated Stainless Steel
· Painting Stainless / Color Soften, Clear Coat Stainless,Pearl-like Clear Coat Stainless,
W Coat(Lubrication steel)
· Plating Stainless / Copper Soften, ToughtenZ, Alster Stainless etc.

Specialty Goods
· Spring materials, Highten materials, Stainless steel belt
· Extra thin, Foil
· Special surface finish product(Embossment etc.)
For more information on Nisshin Steel materials, click the link below.


Click here for DNA-SUS catalog
Notice
These material information in this page is based on Nisshin Steel Co.,Ltd. product catalog.
There are some cases maker do not accept the production depending on the production lot and specification.
Technical information in this website,while every reasonable effort was made to ensure the accuracy at the time of this publication, is general information relating to our products only and is not meant as any warranty,expressed or implied.
Such technical information does not guarantee that any of our products are suitable for your particular application or purpose. Use of any information contained in this website shall be at user's risk. Any information in this website is subject to change without prior notice. Please contact our company for up-dated information.
Please feel free to contact us
ZIP: 559-0032
5-26, 5-Chome, Nankominami, Suminoe-ku, Osaka, JAPAN